Custom Socks
Create custom socks for your brand - ideal for your next big corporate event, resale, or even as memorable gifts for your team. You can even include your own customised label and brand message.

Next step add your details
for every item we make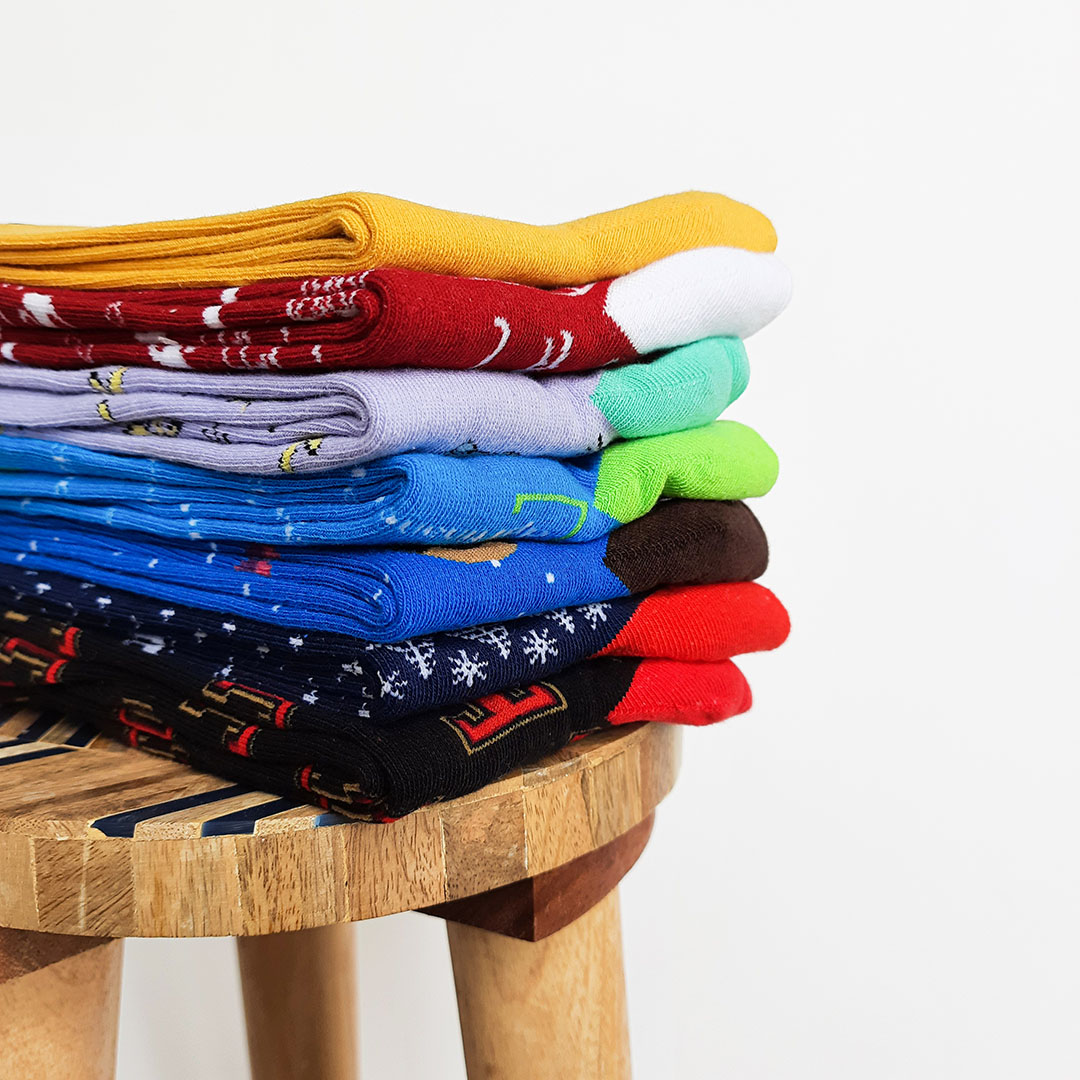 Low Minimum Orders, Fast Production
You can create completely custom socks - made from scratch, your colors and designs.
Super fast, 30 day production (express orders also available)!
We help create your design!
Super soft, amazing quality!
Frequently Asked Questions
+
How does the process work?
Simply select the number of pairs of socks you'd like to order in the menu above and fill out some basic details. Our team are always on call during business hours, so someone should be back to you within an hour max.
Do I need my own design?
If you have your own design, that's great just send it through (any format is fine). If you need help, we have an awesome design team that will work with you to create something amazing. All we need is the logo and the colors and we'll create something awesome - we're happy to incorporate any ideas or directions you might have.
What is the turnaround time?
Production time is typically 30 days and shipping is 3-5 days. If you need it sooner, we do offer a rush order service so please just ask.
What is the minimum order?
200 pairs of socks. These socks are made from scratch - they're actually made for you, not just printed or embroidered. This is a very small volume relative to the work put in to creating them.
Can I have text on my socks?
Absolutely!
What are the socks used for?
The socks are used as social media gifts, staff gifts and for launches. They're also frequently resold for brands, influencers, high school, universities, breweries, etc. Our socks have popped up all over the world.
Do you deliver outside the USA?
Of course, we deliver worldwide.
Is there a charge for design?
If you're ordering, there is no additional charge for design. There is a very small deposit which we take if you require the services of our desing team, but this is fully refunded against your order.
Is there a delivery charge?
There is a small delivery charge. If you let us know where the socks are going we'll be happy to work out any additional costs for you.
Sustainability
+
Waste / Landfill
Nearly all merch ends up in landfill without being used. Not these socks - these unique pieces of artwork are loved by all. Creating unique styles that are loved and re-worn over and over again is our aim. These socks look great and last longer than just about any others on the market - you'll want to keep them forever!
Materials
We use 80% cotton, 18% polyamide, 2% elastane. The socks are soft, durable and they wear and wash well.
Work Conditions
We have been working with a select group of production partners for years now, and they're truly amazing. The work conditions for staff are absolutely excellent - our production partners are audited independently and we also visit the factories periodically to check for ourselves. We take care to never work with cheap, dangerous, expolitative production partners.
Tree Planting
Of course, we also plant a tree for every item we make.
One tree planted for every item
We make it easier to choose sustainable options for your swag. You can create amazing merch your team will love (and share). And for every item you make, one tree will be planted in areas where they need them most.
100k+
trees planted
How to create custom socks for your brand
You can create a unique memorable gift that your staff, customers and fans actually want.
Custom socks are made from scratch, especially for you. They're not just printed onto stock items. The socks are memorable and shareable, and have been used by amazing brands (big and small) seeking to make an impact, not only in terms of style but also for the environment - one tree is planted for every single item made.
When creating anything custom, we understand how important it is that your products fully align with your brand. Logos and colors are essential to conveying the look and feel of your brand at just a glance, and our technology will enable you to weave your logo and imagery/style into the sock itself, rather than just printing onto the outer layer.
The process is so simple:
1. You just select a quantity and send us some details about what you'd like.
2. We will come up with some design options for you to choose from.
3. Once you're happy, we'll make the socks and deliver them right to your door.
Alternatively, if you've already got a design, that's brilliant too - just upload the file and we'll get started producing them for you!