Custom Hawaiian Shirts
Create custom Hawaiian Shirts for your next big corporate event, for resale, for staff uniforms and for fun, memorable gifts. Our shirts are custom, eco-friendly and sustainable, which means you can create something truly special for your brand.

Next step add your details
for every item we make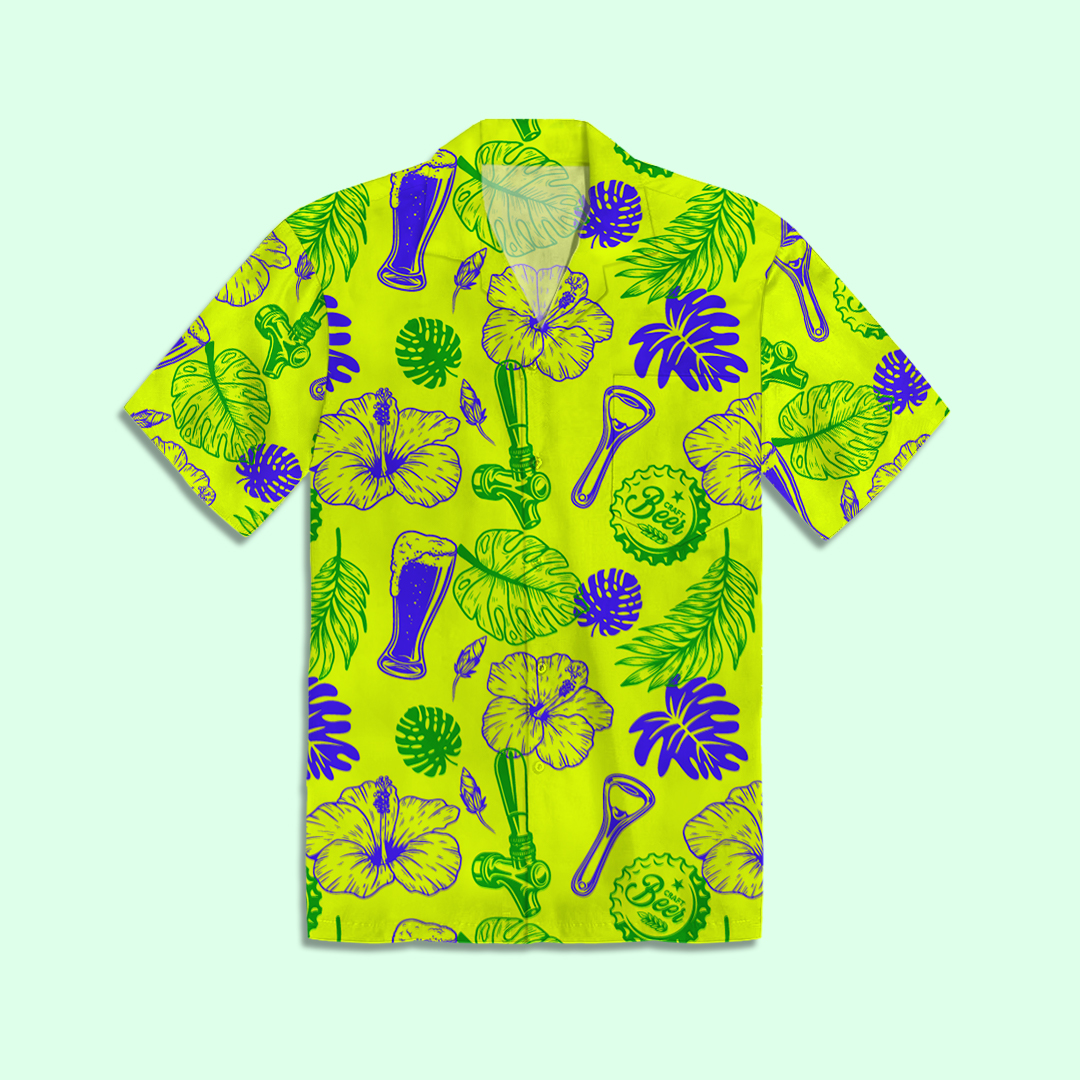 Bright, Loud and Fun!
You can create your very own custom Hawaiian Shirts. Made from 100% recycled polyester - these shirts look and feel amazing!
Super fast, 30 day production (express orders also available)!
A skilled team to help create your design!
Super soft, amazing quality!
Sustainable, long-lasting fabrics!
Minimum order of just 50 shirts!
Frequently Asked Questions
+
How long does it take to make the shirts?
Usually about 30 days and then 3-5 more for delivery. We have multiple delivery options based on urgency.
We have a huge amount of experience making fully customised shirts, sweaters and other stuff for major brands and campaigns, all from scratch. This means we make stuff more efficiently and reliably than anyone else in the world. If you need the shirts for an event or a specific date just let us know and we'd be delighted to work out a timeline that best suits your needs.
What fabric are they made from?
We're thrilled to say that we use recycled polyester. The fabric feels fantastic and is light and breathable - super comfy and easy to care for. As we're passionate about sustainability, everything we make is likely to be loved and should last some time so won't end up in the garbage. While we try our best to use the best fabrics, we don't compromise on the quality of the product - it's hugely important that the shirts look and feel amazing.
These shirts meet all our quality standards and look out of this world. If you would prefer to create cotton Hawaiian shirts, we would of course be happy to help. We also make rayon Hawaiian shirts.
Can I get my own branded label on the Hawaiian shirt?
Yes, absolutely. Everything we make can be fully branded. That means we can even put a custom label on the shirt - made from scratch, just like everything else, so you can have your logo on the label, along with any colors, styles, messaging etc. If you don't want our name anywhere, that's absolutely no problem. We're making your shirts and we want to make sure they look and feel great for you.
Am I guaranteed laughs if I wear it?
Always. If they're not laughing, you're in the wrong crowd.
Can I add a patch to the Hawaiian shirt?
Absolutely. We make lots of different styles of patches, and seeing that your shirts are being made especially for you, you can add whatever you like. Remember though, we can also just include your logo and branding right on the shirt. If you've got a specific style in mind, just let us know and we'll be very happy to help.
What do you mean by sustainable?
Roody makes sustainable swag. That means, we look at every single part of the development and manufacturing process to make your swag as sustainable as possible. Our first principle is that the product itself should be great. We design and create amazing shirts that incorporate your brand and are LOVED by their recipients.
We use sustainable fabrics where possible and, time permitting, we use the most sustainable methods of transport. Sustainability is a tricky process - we are always considering each element of the process and checking to see if there are any areas where we can improve. Oh yeah, and we also plant one tree for every item we make. Every single shirt.
How do I design my own floral shirt print?
If you have your own designer or are a designer yourself, we have handy templates that we can share. There are so many options when it comes to creating your own branded Hawaiian shirts - you can use any colors and any design. This includes the collars, the short sleeves, the front and back of the shirts. We use pantones to ensure that your shirt colors will print exactly how you want them.
Most of our clients go for some sort of floral print but the options are endless. If you need help with design we have a full design team that will be happy to help create something totally unique.
Sustainability Creds
+
Waste / Landfill
We are fighting a huge battle against landfill - we want to help brands create merch that everyone loves and wants to keep using for a very long time. These Hawaiian Shirts are among the most amazing products we've ever created - if you get one, we guarantee you'll not only keep it, but keep wearing it! The styles and colors are limitless - whatever works best for you.
Materials
We use 100% recycled polyester to make the shirts. This fabric is amazing - the shirts are soft, durable, and wear and wash well. Lots of (very) high end brands have started using this fabric on their premium shirts so you can be sure the quality is outstanding. We've investigated thoroughly and can assure you that this is the most sustainable fabric you could possibly hope for.
Work Conditions
We have been working with a select group of production partners for years now, and they are truly amazing. The work conditions for staff are absolutely excellent - our production partners are audited independently and we also visit the factories periodically to check for ourselves. We take care to never work with cheap, dangerous, exploitative production partners.
Tree Planting
Of course, we also plant a tree for every item we make!
One tree planted for every item
We make it easier to choose sustainable options for your swag. You can create amazing merch your team will love (and share). And for every item you make, one tree will be planted in areas where they need them most.
100k+
trees planted
What is a Hawaiian Shirt?
Aloha! Our custom shirts are fun items, usually with a fun floral pattern. Usually worn untucked, they are often worn in the summer for both leisure and business casual events, and are suitable for people of any gender. More than that though, they're just a great way to raise a smile. They're easy to wear and perfect as a swag gift or for promotion. They're great for resale and perfect as a fun employee gift. Lots of our clients have used them for staff parties - virtual or in-person, and rest assured they're worn again and again.
Do we have to have a floral pattern on the shirt?
Of course not! While traditional Hawaiian shirts do have a floral pattern, as your shirts are completely custom made you can choose any design, any colors that fit your personal style. Our design team will be more than happy to help create something amazing to your specifications, or you can use your own in-house designer if you prefer. You can get the Hawaiian shirts fully branded and we've done some amazing things with designs. We love incorporating logos, brand colors and other fun stuff - we match to pantones. The shirts look and feel amazing, and you have full design flexibility.
Can I choose different sizes for the shirts?
Yes. The minimum order quantity is just 50 units and that can include a range of different sizes. You can mix your sizes however you'd like, and depending on who the shirts are for, we're happy to provide some advice as to how to do so - we have years of experience making original stuff for various brands and we know what works best. We can also help with pre-orders if you'd prefer to ask your team first.
What do people use the Hawaiian shirts for?
Hawaiian shirts are one of the fastest growing merch items in the world right now and our customers are creating unique branded shirts for resale, staff gifts, influencer gifts, staff uniforms, PR campaigns and competitions. Totally unique and very shareable. If you have a strong brand, our Aloha shirts will be a huge hit. They're a particularly fun, memorable gift that we've seen go viral in any number of locations. If sending to work from home teams, they've proven to be an amazing gift to receive in the mail. Retail is a huge growth area and our customers usually sell out very fast.